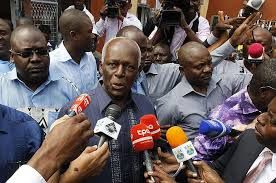 Angolan police teargas opposition protesters. Hundreds prevented from finishing protest over disappearance and possible murder of two anti-government activists.

Al Jazeera
Angolan police have fired teargas and warning shots to disperse hundreds of opposition supporters demonstrating in the capital against the disappearance and possible murder of two anti-government activists.
President Jose Eduardo dos Santos' MPLA party accused the main UNITA opposition group this week of promoting "chaos" with its plans for nationwide rallies to tap into public anger at the two disappearances.
Prosecutors said last week that Isaias Cassule and Antonio Alves Camulingui, who were involved in organising protests by former presidential guards to demand payment of wage arrears, had been kidnapped and possibly murdered in May 2012.
Angola's Interior Ministry advised UNITA on Friday to cancel the rallies as they would coincide with a public march planned by the MPLA ruling party. A police spokesman later said they were not authorised and would endanger public order.
"We met as planned at 0900 GMT near the Santana cemetery but an hour and a half later police charged on us, using teargas, anti-riot and mounted police and dogs," UNITA spokesman, Alcides Sakala, told reporters metres from the venue.
Angolan police spokespeople were not immediately available to comment.
As Sakala spoke, police charged on protesters behind him, firing teargas. Some protesters responded by throwing stones.
UNITA planned a march to the Primeiro de Maio Square but a large police contingent, which included helicopters flying over the area, continued to break up small groups using teargas along the busy avenue that links the venues.
Sakala later said that UNITA had called an end to the protest, asking demonstators to return home.
'Dozens of arrests'
Former rebel group UNITA lost a 27-year civil war to the MPLA in 2002 and has since been trounced in two elections.
It has long accused Dos Santos of suppressing human rights and using violence to block dissent in his 34-year rule.
CASA-CE, the country's second-biggest opposition party, alleged earlier on Saturday that one of its members had been killed by presidential guards, but a police spokesman contacted by Portuguese news agency Lusa did not confirm the allegation.
The party added in a statement that dozens of its members had been arrested in the early hours of Saturday while they were putting up posters to protest the two disappearances.