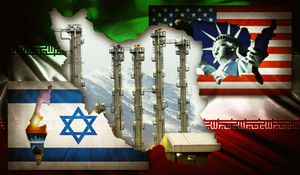 American senators introduce new Iran sanctions bill

Press TV
A number of American senators have introduced new legislation to impose further sanctions against Iran in order to disrupt the Geneva nuclear agreement.
In a blatant move to oppose President Barack Obama's request for not imposing fresh sanctions, 13 Democrats and 13 Republicans sponsored the new Senate bill on Thursday.
Chairman of the Senate Foreign Relations Committee Sen. Robert Menendez and Sen. Mark Kirk wrote the bill, which proposes boycotting Iranian oil exports within a year and the blacklisting of Iran's mining, engineering and construction industries.
"A credible threat of future sanctions will require Iran to cooperate and act in good faith at the negotiating table," Sen. Menendez was quoted as saying by the Associated Press.
Republican Senator Kirk also claimed that the draft law is "an insurance policy to defend against Iranian deception."
Under the Senate bill, more sanctions will be imposed if Iran breaches the terms of the Geneva deal and it calls for "diplomatic, military and economic support" to Israel in case Tel Aviv decides to launch an attack against Iran's nuclear energy program.
The new legislation will put the Obama administration in peril because under the November 24 nuclear deal no new economic sanctions should be imposed for the duration of the six-month interim accord.
Last week, US Secretary of State John Kerry told senators that passing new sanctions legislation now would violate the interim deal with Iran.
Iranian Foreign Minister Mohammad Javad Zarif had warned that the agreement will be "dead" if the United States imposes additional sanctions.
"The entire deal is dead. We do not like to negotiate under duress. And if Congress adopts sanctions, it shows lack of seriousness and lack of a desire to achieve a resolution on the part of the United States," Zarif said.
Meanwhile, the US announced new sanctions against a number of companies and individuals last week for "providing support for" Iran's nuclear program.
Iran called December sanctions counterproductive, saying they might undermine the agreement. Tehran said they "violated the spirit of the Geneva deal."
AGB/AGB