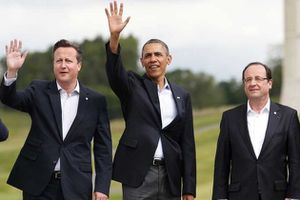 Political crisis in France and in Great Britain: a crisis of legitimacy ?
Political crisis in France and in Great Britain: Holland 15 % and Cameron 28 % in the polls
In the context of an endlessness economic crisis, the traditional political parties in power exhibit a rating collapse of their popularity in France as well as in Britain. Worse their citizens do not only longer trust them but seem to prefer anti-atlanticist leaders - yet demonized in their media - as showed by a survey published by The Independent in april (see below).
In France, the popularity rating of President François Hollande and his fuse Prime Minister, Manuel Valls, are still flying at half mast. Indeed, only 15% of French expressed a favorable opinion of the President in an opinion poll by YouGov poll for Huffington Post and iTV released early in june. According to the same poll, only 30% of French expressed a favorable view of the French Prime Minister Manuel Valls.
In the United Kingdom, an opinion poll by ComRes for The Independent revealed on Sunday that of more than 2,000 people surveyed, only 28 percent expressed a favorable view of British Prime Minister and Conservative leader David Cameron.
Finally in april, 2014, another poll of the British newspaper, The Independent, had raised the question: " who is your favorite world leader ?" And which was not the surprise, in spite of the anti-Russian tone used in the poll, to notice that 82 % of the questioned British citizens had choisen Putin whereas Holland and Cameron obtained the worst scores with respectively 1 and 2 % of favorable opinions. Should we also believe that, despite the economic crisis, British citizens are tired and disgusted of their atlanticist poodles who run them and who run imperialist criminal policy in Libya, Syria, Ukraine...?