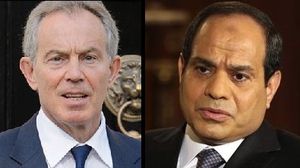 How US and Blair Plotted 'Ceasefire' Scam
By Jonathan Cook
We now have confirmation from the Israeli daily Haaretz of what we should have suspected: that the idea for the so-called Egyptian "ceasefire proposal" was actually hatched in Washington, the messenger boy was arch-war criminal Tony Blair, and the terms were drafted by Israel.
The intention was either to corner Hamas into surrendering – and thereby keep the savage blockade of Gaza in place – or force Hamas to reject the proposal and confirm the Israeli narrative that it is a terrorist organisation with which Israel cannot make peace.
According to Haaretz, Blair secretly initiated his "ceasefire" activity after "coordinating" with US Secretary of State John Kerry. On Saturday he headed off to Cairo to meet with the US-backed Egyptian dictator Abdel Fattah al-Sisi to persuade him to put his name to the proposal.
Immediately afterwards, he travelled to Israel to meet Benjamin Netanyahu on Saturday afternoon. Sisi and Netanyahu were then supposed to thrash out the details. When they failed to do so, Blair intervened again on behalf of the Americans and the pair spoke by phone on Saturday evening.
Here's the key paragraph from Haaretz:
Senior Israeli officials and Western diplomats said the reason the Egyptian cease-fire initiative was so short-lived is that it was prepared hastily and was not coordinated with all the relevant parties, particularly Hamas.
Wonderful that throw-away last line. In all this activity, it never occurred to the US, Blair, Sisi or Netanyahu – and no doubt Mahmoud Abbas, who is strangely absent from this account – that it might be necessary to sound out Hamas on the terms of a ceasefire it would need to abide by.
Now it seems Kerry is using US muscle to get Egypt, Qatar and Turkey to strong-arm Hamas into surrendering.
It's depressingly predictable that the corporate media have swallowed the line of Israel accepting the "ceasefire proposal" and Hamas rejecting it. What Hamas did was reject a US-Israeli diktat to sign away the rights of the people of Gaza to end a siege that cuts them off from the rest of the world.
But there is a long pedigree to such deceptions. It is reminiscent of a hasbara favourite: that the Jews accepted the UN partition plan of 1947 while the Palestinians rejected it. The reality – then, as now – is that the colonial powers sought to strip the Palestinians of their rights and their homeland without even consulting them.
www.haaretz.com/news/diplomacy-defense/.premium-1.605499
Jonathan Cook is a Nazareth- based journalist and winner of the Martha Gellhorn Special Prize for Journalism. http://www.jonathan-cook.net
Secret call between Netanyahu, al-Sissi led to Abortive Cease-fire
Haaretz has learned that the PM spoke to the Egyptian president in a phone call prompted by Quartet envoy Tony Blair.
By Barak Ravid
July 16, 2014 - "Haaretz" - - Prime Minister Benjamin Netanyahu spoke to Egyptian President Abdel-Fattah al-Sissi on Saturday in a telephone call that has been kept secret until now, after Quartet special envoy Tony Blair urged the Egyptian leader to become more actively involved in promoting a cease-fire, diplomatic sources told Haaretz.
Israel agreed to a cease-fire Tuesday morning and briefly halted its air strikes on Gaza. Hamas did not accept the terms of the truce, however, and continued firing rockets. Several hours later, Israel resumed its attacks as well.
The Saturday conversation was the first between Netanyahu and al-Sissi since Israel's Operation Protective Edge began July 8, and only the second since al-Sissi took office in June.
The diplomatic sources said Blair was still in the region Wednesday, continuing to push for a cease-fire. Blair is due to meet with al-Sissi again Wednesday to continue looking into ways to end the fighting.
Diplomatic efforts are also underway to pressure Hamas to agree to the cease-fire proposal.
U.S. Secretary of State John Kerry and German Foreign Minister Frank-Walter Steinmeier, who met with Netanyahu on Tuesday in Tel Aviv, spoke by telephone over the past 24 hours with the foreign ministers of Egypt, Qatar and Turkey, asking them to increase the pressure on Hamas.
Senior Israeli officials and Western diplomats said the reason the Egyptian cease-fire initiative was so short-lived is that it was prepared hastily and was not coordinated with all the relevant parties, particularly Hamas.
Blair held talks with Netanyahu as well as al-Sissi in the early stages of the military campaign, in a bid to move forward with a cease-fire. He met with al-Sissi in Cairo on Saturday after coordinating his efforts with Kerry, the sources said. They spoke on condition of anonymity because of the sensitivity of the issue.
The sources said Blair urged al-Sissi to push for an end to hostilities to prevent further harm to civilians in the Gaza Strip.
After the meeting, al-Sissi spoke for the first time about the need to work toward a truce based on the cease-plan from the last flare-up between Israel and Gaza, in November 2012. He said Egypt would hold talks on the subject with Israel and Hamas.
From Cairo, Blair traveled to Israel to meet with Netanyahu early Saturday evening, and told him al-Sissi was willing to engage in serious mediation efforts. Blair also updated Kerry on the situation, the sources said.
Blair discovered Saturday that Netanyahu and al-Sissi had not been in contact, and secured their agreement to speak by phone.
Both countries kept mum about the conversation, refraining from informing the press the two leaders had been in touch. The Prime Minister's Bureau did not immediately respond to a request to confirm the details described by the diplomatic officials.
In his first conversation with al-Sissi last month, Netanyahu congratulated him on winning the Egyptian presidential election. The Prime Minister's Bureau said at the time that Netanyahu said Israel was committed to its peace treaty with Egypt and saw bilateral ties as being of strategic importance.