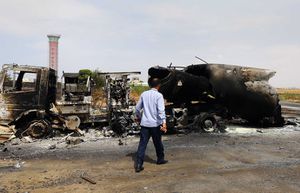 Libya attack destroys '90% of Tripoli airport jets'
Al Arabiya News

y Staff writer | Al Arabiya News

Tuesday, 15 July 2014
Ninety percent of the planes parked at Libya's Tripoli International Airport have been destroyed after shelling attacks on the site, government spokesman Ahmed Lamine said on Tuesday.

"The government has studied the possibility to bring international forces to enhance security," he told reporters, according to Reuters news agency,

It was not immediately clear how many planes were destroyed, but the airport serves as the main hub for several Libyan carriers.
The United Nations said on Monday it is withdrawing its staff from Libya temporarily because of deteriorating security after rival militias fought over Tripoli International Airport and a renegade general's forces continued to battle Islamist militias in the eastern city of Benghazi.
Tripoli is witnessing one of its worst spasms of violence since the ouster of longtime dictator Muammar Qaddafi in 2011, as rival militias fight for control of its airport.
On Monday, the capital's international airport was hit by a salvo of rockets.
"Dozens of rockets were fired at the airport," al-Jilani al-Dahech, a security official at the scene, told Agence France Presse, while another source said an aircraft took a direct hit.
Several Grad rockets hit the airport, damaging the control tower, Reuters news agency quoted a Libyan official as saying.
A Reuters reporter at the airport heard the sound of anti-aircraft guns and other heavy weapons. Rival militias have been fighting for control of the airport since Sunday.
Also Monday, all flights to and from Misrata airport in the west of the country were suspended.
An airport source in the capital told AFP the decision to close the airport in third city Misrata was taken for "technical reasons."