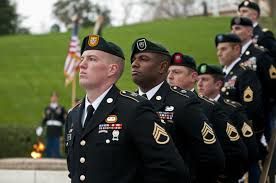 US Sends Green Berets to Northern Iraq
Military.com
Special Forces advisors have set up an operations center in northern Iraq as part of the expanding U.S. political and military effort to keep Iraq from splintering against attacks by Islamic extremists, Defense Secretary Chuck Hagel said Thursday.
In recent days, a small team of advisors opened up a Joint Operations Center (JOC) in Irbil, capital of the semi-autonomous Kurdish Regional Government, Hagel said at a Pentagon briefing with Army Gen. Martin Dempsey, chairman of the Joint Chiefs of Staff.
The Irbil mission will complement the JOC already in operation in Baghdad in assessing the capability and will of the Iraqi national security forces to combat militants of the Islamic State of Iraq and the Levant who have swept across large swaths of western and northern Iraq against little opposition.
President Obama has authorized 300 troops for the advisory mission and about 200 are now on the ground, Hagel said.
"None will perform combat missions," he said.
About 550 additional troops have the separate mission of protecting the U.S. Embassy and U.S. facilities at the Baghdad airport with the goal of "providing our diplomats time and space" to press for the formation of a unity government in Iraq, Hagel said.
The troops at the airport arrived earlier this week with Apache attack helicopters and small surveillance drones to protect U.S. facilities at the airport should an evacuation be ordered.
Obama, Hagel and Dempsey have repeatedly said that the use of force by the U.S., including airstrikes, would not be considered unless Iraq first made progress on an inclusive government representative of the Shia, Sunni and Kurd communities.
Dempsey also would not rule out military cooperation with Iran to keep Iraq from partitioning into Shia, Sunni and Kurdish regions.
Dempsey said Iran already was flying unmanned surveillance drones over Iraq, and there also have been reports that advisors and possibly some combatants from the Iranian Revolutionary Guards have arrived in Iraq in support of the Shia government of Prime Minister Nouri al-Maliki.
"We're not cooperating with Iran now," Dempsey said. "It's not impossible that in the future we would have reason to do so."
The initial assessment of the advisors was that the Iraqi forces appeared to be capable of defending Baghdad, Dempsey said, but "they'd be challenged to go on the offensive" against ISIL fighters whose success at taking territory has made them vulnerable to attack.
"They're stretched right now" across lengthening communications and logistics lines, Dempsey said.
Dempsey led the 1st Armored Division in Iraq and for two years after that unit helped train the new Iraqi army. At a cost of $25 billion to the U.S., the Iraq forces grew to 250,000 soldiers, with more than 600,000 reserves.
The number of ISIL fighters has been estimated at 10,000 at most, and yet the Iraqi forces melted away at their advance as troops threw away weapons and discarded uniforms.
Maliki has been blamed by numerous U.S. officials for politicizing the army by replacing competent commanders with inexperienced loyalists. Maliki has given no indications as yet that he is ready to compromise with the Sunni and Kurdish factions on a new government.
The first session of the new parliament was called off in disarray earlier this week with a tentative agreement to reconvene on July 8. In the north, Kurdish President Massoud Barzani pressed ahead with plans to hold a referendum on independence.
ISIL consolidated its gains in the north and west while Maliki sent his forces south on Wednesday to Karbala where they reportedly engaged in firefights with the militias of a local Shiite cleric.
State television in Saudi Arabia also reported that the kingdom had sent 30,000 troops to the 500-mile border with Iraq after Iraq forces abandoned the area. Maliki's military spokesman denied the report.
Mistrust of the central government was likely a factor in the failure of the Iraqi forces, Dempsey said. "They didn't collapse in the face of a fight," Dempsey said. "They collapsed in the face of a future that didn't hold out any hope for them."
The U.S. has moved the aircraft carrier George H.W. Bush into the Persian Gulf, and has numerous other air assets in the region, but Dempsey stressed that there had been no decisions as yet on the feasibility of airstrikes against ISIL.
"We may get to that point," Dempsey said of airstrikes. "I'm suggesting to you that we're not there yet."
If airstrikes were ordered, "that's going to be a tough challenge" because of the intermingling of ISIL fighters with Sunni tribes that have supported them, Dempsey said.
U.S. pilots probably would attempt not to hit the tribal fighters to send the message that a unified Iraq was in their best interests, Dempsey said.
"It matters for the future of Iraq," he said.
-- Richard Sisk can be reached at richard.sisk@monster.com