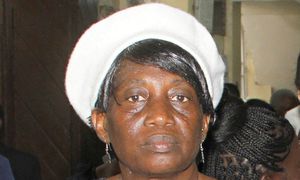 Why are western health workers with Ebola flown out, but locals left to die ?
Par Joseph Harker
The Guardian
The death of Dr Olivet Buck after the WHO refused to fly her out of Sierra Leone is not just wrong: it's making the Ebola epidemic worse
My brother-in-law, Albert, is a GP based in the West Midlands. His sister Olivet Buck was a doctor too: though her work was quite different. She practised in the land of their birth, Sierra Leone. For the past few months she was fighting in the desperate battle against Ebola ravaging parts of her country. Last Tuesday came the awful news that she'd caught the virus.
To save her life, local campaigners called for her to be evacuated to Germany to receive treatment – all three previous doctors who had caught the disease in the country had died. Sierra Leone's president backed her, saying that a hospital in Hamburg was "in readiness to receive her". Last Friday, though, the World Health Organisation said it would not allow her to leave Sierra Leone, and refused to fund the move. Desperate attempts were made to try to overturn this decision but on Sunday came the news everyone was dreading: Olivet had died.
Albert, distraught, told me: "I shall never stop weeping at all our loss. Olivet was a truly remarkable person. She died because she would not forsake her service to others."
But the death of Olivet, a 59-year-old mother of three, raises wider questions about how the world responds to the Ebola crisis, and how it protects those working closest to stop its spread.
Despite the fate of the previous doctors, the WHO had said merely that it would work to give Buck "the best care possible" in Sierra Leone.
However, foreign health and aid workers have been sent abroad from Sierra Leone and Liberia for treatment – including the British nurse William Pooley, who survived and now wishes to go back to Sierra Leone to continue helping to fight the disease. Only last Friday, two Dutch doctors were flown home after coming into contact with infected patients.
But so far no local health workers have been evacuated: even though, according to the WHO, in west Africa 301 have so far caught Ebola and 144 have died. Dr Sheik Humarr Khan, Sierra Leone's top Ebola doctor, was being considered for evacuation to a European country when he died of the disease in late July.
Albert is convinced that, despite Olivet being diagnosed only last week, her life could still have been saved. "The Hamburg hospital was ready to take her on Thursday; and when I spoke to her on Friday, even though she was weak she was still in good spirits."
And he says of the WHO's decision: "I think it showed a callous lack of compassion for a devoted frontline clinician, especially since there is now awareness of equipped units elsewhere to which other patients have been evacuated and successfully treated." The combination of specialist equipment, drugs and a clean healthcare environment can have rapid results, he points out. Olivet was, in contrast, working in an overcrowded unit with poor sanitary conditions – in a part of the capital, Freetown, that has become densely populated since refugees fled the country's civil war in the 1990s. "The best care possible" is a meaningless phrase in this context.
The WHO decision seems to be making a distinction between western health workers in the region who are, rightly, given live-saving treatment – and those from the countries concerned who are taking equal risks, are equally courageous and are equally important in the struggle, but condemned to take their chances in a poorly funded healthcare system that can barely cope.
And the decision was hugely counterproductive too, because if Ebola is to be tackled, everything must be done to encourage those in the frontline to continue their work despite the huge risks they face.
According to Liberia's president, Ellen Johnson Sirleaf, the disease could overwhelm the country and "threatens civil order". In a letter to President Obama, Johnson-Sirleaf said: "Diseases that were treated with relative ease pre-Ebola now take lives because of the pall that Ebola has cast over our health system."
Without the work of those like Dr Buck the disease could rapidly rage out of control, threatening not only the region but the wider world too.
Nearly 5,000 people have now contracted Ebola, half of whom have died. And the rate of infection is increasing. Just days ago the WHO director general, Margaret Chan, warned that "the number of new patients is moving far faster than the capacity to manage them", and called for urgent international support in the form of doctors, nurses and medical supplies to the worst-affected countries.
Denying potentially life-saving treatment to those on the frontline can only work against this international effort. Albert feels very angry about his sister's treatment. "Those involved in this decision need to be held to account," he says.
Health workers from a wide range of countries are working alongside each other to fight Ebola. How can it be right to give some the chance of life when they contract the disease, and condemn others to death?
And though it's too late to save Olivet, Albert now wants a change of WHO policy so that her fellow health workers know they'll be fully supported if they're unfortunate enough to contract the virus. That way, he feels, her death need not have been in vain.