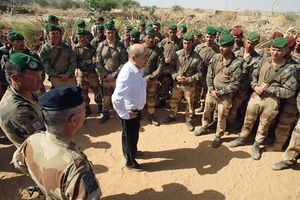 France 'ready' to bomb rebels on Libya border

Al Jazeera
French president says he will target armed groups smuggling weapons out of Libya, but rules out unilateral intervention.
France says it is ready to carry out strikes against fighters crossing out of Libya's southern border, and prevent the flow of weapons to groups fighting in North Africa's lawless Sahel region.
French President Francois Hollande made the announcement on Monday, but Libya's internationally recognised parliament rejected any Western military intervention in the conflict-wracked African nation.
"Foreign military intervention in Libya is rejected. If we need any military intervention, we will ask our Arab brothers," parliament speaker Aqila Issa said.
While ruling out unilateral intervention, Hollande said that French forces would strike fighters "every time they leave these places where they are hiding".
"We are making sure to contain the terrorism that took refuge there, in southern Libya. But France will not intervene in Libya because it's up to the international community to take its responsibility,'' Hollande told France-Inter radio.
France is currently setting up a military base in northern Niger, 100km from the Libyan border region, and troops have been based in the Sahel region since January 2013.
French and US drones are already operating out of Niger's capital, Niamey.
Libya is mired in its worst fighting since a NATO-backed uprising toppled and killed long-time leader Muammar Gaddafi in 2011.
Fighting between forces loyal to Libya's western recognised prime minister, Abdullah al-Thinni, and rival militias threatens neighbouring nations including Chad, Niger, Mali and Burkina Faso.
The country remains awash with weapons, as interim authorities failed to confront powerful militias which fought to oust the veteran leader.
On Sunday, a Libyan warplane from forces loyal to the internationally recognised government bombed a Greek-operated oil tanker anchored off the coast, killing two crewmen amid an escalation of conflict between factions vying to rule the country.
The airstrike was part of increasingly chaotic violence in Libya which has two parallel governments: the officially recognised one, which runs from the eastern city of Tobruk, and the administration run by a faction known as Libya Dawn that seized Tripoli last summer.
Also on Tuesday, Turkish Airlines, the last remaining foreign carrier offering flights to Libya, said that it was suspending all flights to the country amid the worsening security situation.
The Turkish flag-carrier said that it had suspended flights to Misrata, its only remaining destination in the country after it had earlier pulled its flights to the capital Tripoli as well as Benghazi and the inland desert city of Sebha.