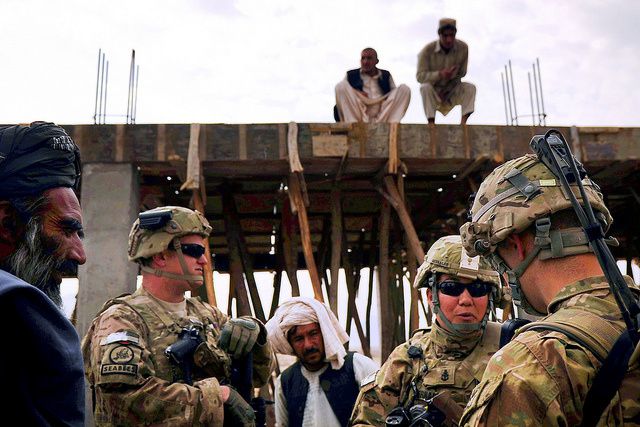 Recently The Atlantic published an article promoting the idea of sending mercenaries to Afghanistan to "fix" the country. That idea even made its way to the White House. According to the article, the idea was proposed by the private-military industry at the request of Steve Bannon, President Trump's chief strategist and Jared Kushner, senior adviser and Trump's son-in-law. The goal behind the proposal is to "extricate U.S. soldiers from quagmire".
As an Afghan who is following both Afghan politics and American policy toward Afghanistan, there are multiple defects in the "mercenary" proposal. For one, the plan calls for an appointment of an American viceroy who will lead the combat operation and would directly report to Donald Trump. This means bypassing of the Afghan government, thereby undermining its legitimacy and authority. The Afghan Unity Government (AUG) which came into being after a fraudulent presidential election in 2014 and with the help of an agreement brokered by former U.S. Secretary of State John Kerry, is already facing legitimacy deficits. Some international and Afghan observers even believe AUG is unconstitutional and its legitimacy under question. Moreover, both the signatories of the agreement (i.e. Chief Executive Abdullah and President Ghani) have been struggling to fully implement it, leading to a turf war, political infighting and unhealthy inter-governmental competition. This has done more harm than good to AUG and to the country. For example, one of the articles of the agreement was to amend the Afghan Constitution to create the post of Prime Minister and change the system of government from presidential to parliamentary.
Constitutional amendment is usually done through Loya Jirga, or a grand assembly. This assembly was supposed to be held two years ago, but it has not. Up until now, no final date has been set to hold an assembly in the future either. Therefore, there is a lot to be done in terms of realizing the content of the AUG agreement. And, by bypassing AUG, further damage to its legitimacy will be done, and will undoubtedly making it a laughing stock for Afghans and the world. Secondly, appointing a viceroy has a negative connotation considering its past usage. In the past, the role of viceroy was to serve the colonial master from the colonized country. This literally means Afghanistan is considered a colony by America and its official institutions have no legitimacy whatsoever in the eyes of American policy makers. Americans must know that this is quite a sensitive subject. When it comes to national sovereignty, Afghans are hypersensitive. Any suggestion that Afghanistan is a colony of America will be detrimental for American interests and presence.
In terms of formulating combat policy to fight insurgent groups in Afghanistan, appointing a viceroy is faulty as well. It is true that the military and intellectual capacity of Afghan leaders is not that impressive, but Afghanistan is their country. They know it better than any foreigner who might claim to be an expert on Afghanistan. They have lived in the country their entire lives. Even if they have been forced into exile, they have nonetheless maintained link with the country. They know its nuances and subtleties. Bypassing them is counter-productive. Morally, strategically, politically and legally, the Afghan government and its leadership must be consulted. It is their sovereign right. As far as the Afghan army is concerned, few would agree that it is a well-trained force. Afghan forces are ill-equipped, suffer from drug addiction, widespread illiteracy, and the desertion rate is high, but it should be the force primarily responsible for the fighting. Sooner or later, Americans will leave Afghanistan. They can't remain in the country forever. Financially, militarily and politically, their presence is not feasible. Hence, instead of sending mercenaries, focus should be paid on Afghan security forces. They must be trained, educated, equipped and prepared to fight the insurgency and defend Afghanistan's borders. It takes less investment and effort to train the Afghan national army than bring in a private army whose only motive is making money. I am confident this will be a worthwhile investment, with huge political and military returns. If Afghanistan has to stand on its own feet in terms of defending itself, it needs a well-trained, well-equipped, confident, and motivated army.
Afghanistan Needs a Political Settlement
Since 2001, the stated U.S purpose in Afghanistan is to bring political stability, democracy and prosperity. Each year we see that the military approach is not yielding the intended results as civilians and military casualties continue to grow. According to UN Mission in Afghanistan, just in the first half of 2017, alone, nearly 1600 civilian were killed, an increase of two percent compared to the first half of last year. This all suggests that there is no military solution to the Afghan conflict. In fact, there is a general consensus that there is no military victory to the conflict. The military approach has merely brought more violence and bloodshed. The longer the war goes on, the worse it is going to get. The only solution that can lessen the suffering of Afghans is political settlement. If Americans seriously want to bring stability to Afghanistan, they must address the core issue of the border dispute between Afghanistan and Pakistan, which is fueling the Afghan conflict. Afghanistan does not officially recognize the current border between Afghanistan and Pakistan, whereas, Pakistan does. This is the fundamental reason that Pakistan is supporting insurgent groups such as the Taliban, Haqqani Network, and other militant groups to create chaos in Afghanistan, and eventually install a puppet government that does not raise of the issue of the border dispute. This is the bone of contention. Americans have to put multilateral and unilateral pressure on Pakistan to adopt a negotiated settlement to solve the border dispute with Afghanistan, and help end the bloodbath in the country that has broken the fabric of Afghan society.
In an Op-Ed published six years ago in New York Times by former UN envoy to Afghanistan, Lakhdar Brahimi – a distinguished and experienced international diplomat, the same argument for political settlement was put forward. Mr. Brahimi's argument must carry weight, as he knows Afghanistan well and is quite familiar with the true nature of its conflict. He believes the political settlement must carry two elements: a "domestic element which is a political order broadly acceptable to Afghans, and an international element, which is severing Taliban ties to Al-Qaeda, and containing rampant drug production and trafficking." Under his proposal which he deems difficult, "Afghans will have to allow for fair representation of the Taliban in central and provincial governments; get the Taliban to abide by election results; determine the proper role of Islamic law in regulating dress, behavior and the administration of justice; protect human rights and women's rights; decide whether and how to bring perpetrators of war atrocities to justice; and incorporate some Taliban fighters into police and security forces." This a good and practical framework to kick start the process of political settlement. For this to happen putting pressure on Pakistan - the main supporter and financier of the Taliban and other countries such as Saudi Arabia and UAE who have provided military and diplomatic support to the Taliban, is a prerequisite. Here again, the sincerity of the U.S. in forcing and persuading the state backers of the Taliban to bring the group to the negotiating table is necessary. Mr. Brahimi calls for the appointment of a "neutral international facilitator to begin explorations with all potential parties toward negotiation." It is true that the Afghan conflict is old, multi-dimensional and involving many actors. It will surely require adequate time to find a breakthrough. But it is not impossible. The recent political settlement between the Colombian government and the FARC rebels must be an incentive for the Afghans to pursue a serious political settlement. Here, the role of an international facilitator is of a paramount importance, as it was in Colombia.
In 2001, Afghans greeted American forces with the hope of seeing stability and prosperity in their country. If Americans cannot help bring stability and secure the lives of Afghans, then they must leave Afghanistan. Until now Afghans have not benefited from American presence. As a matter of fact, it has brought death and destruction to the county. Afghans cannot take it anymore. It is time for a radical change.
*(Members of Kandahar Provincial Reconstruction Team conduct a site survey of a bazaar in Kandahar, Afghanistan. Kandahar PRT is a joint team of U.S. Air Force, Army, Navy service members and civilians deployed to the Kandahar province of Afghanistan to assist in the effort to rebuild and stabilize the local government and infrastructure. Image credit: U.S. Air Force photo/ Staff Sgt. Tim Chacon/ flickr)