1. Le point sur l'offensive militaire turque à Afrin, à J70
---
1. Update on the Turkish military offensive in Afrin, D70
---
1. Update zur türkischen Militäroffensive in Afrin, T70
Avertissement : nous recueillons ici toutes les informations qui nous semblent pertinentes qu'elles soient occidentales, iraniennes, israéliennes, turques, russes...Elles seront systématiquement sourcées. Nous essayerons de nous en tenir aux faits.
---
We collect here all the information that seems relevant to us whether they are Western, Iranian, Israeli, Turkish, Russian... They will be systematically sourced. We will try to stick to the facts.
---
Wir sammeln hier alle Informationen, die für uns relevant erscheinen, ob es sich um westliche, iranische, israelische, türkische, russische oder türkische Informationen handelt... Sie werden systematisch beschafft. Wir werden versuchen, uns an die Fakten zu halten.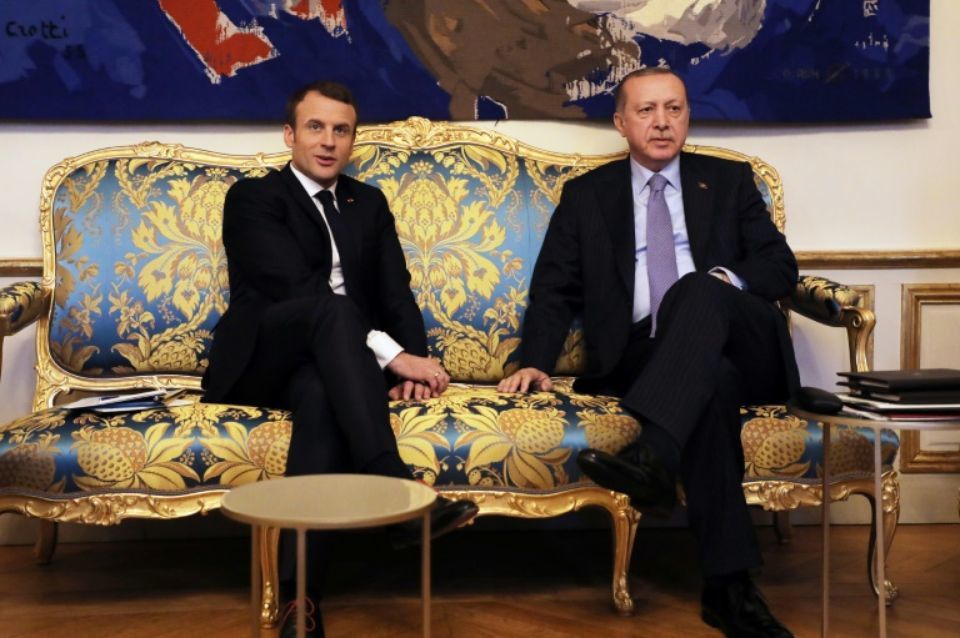 1. Le point sur l'offensive militaire turque à Afrin, à J70
Après que les représentants kurdes du FDS aient déclaré au sortir de l'Elysée que la France de Macron allait envoyer des renforts militaires à Manbij pour renforcer les troupes étatsuniennes à l'approche des troupes turques, Macron même si il a du démentir ces allégations a confirmé son soutien aux troupes des FDS. La Turquie a rejeté toute médiation française avec la force arabo-kurde de Manbij. C'est dans ce contexte que France 2 a choisi de diffuser une enquête d'Envoyé spécial faisant état des ventes d'armes turques aux djihadistes de l'Etat islamique et d'Al Qaida en occultant le soutien franco-étatsunien aux mêmes djihadistes. Une coïncidence surprenante. Toujours est-il que la réaction d'Erdogan à l'égard de Macron a été particulièrement virulente. Selon MEE, "le président Tayyip Erdogan a déclaré que la France avait adopté une "approche complètement erronée" à l'égard de la Syrie, ajoutant qu'il avait échangé des paroles véhémentes avec son homologue français, Emmanuel Macron, la semaine dernière". Avec des menaces claires envers l'Etat français de la part du vice premier ministre turque, Bekir Bozdag, qui a déclaré que la position française mettait Paris sur une trajectoire de collision avec Ankara : "Ceux qui s'engagent dans la coopération et la solidarité avec les groupes terroristes contre la Turquie.... deviendront, comme les terroristes, une cible de la Turquie", a écrit Bozdag, qui est aussi le porte-parole du gouvernement turc, sur Twitter. "Nous espérons que la France ne fait pas un pas aussi irrationnel." Erdogan a même menacé de manière à peine voilée Macron de représailles : " "Nous espérons que la France ne viendra pas nous demander de l'aide lorsque les terroristes fuyant la Syrie et l'Irak rempliront leur pays après avoir été encouragés par leur politique ", a-t-il déclaré. (MEE)

---
1. Update on the Turkish military offensive in Afrin, D70
After the Kurdish representatives of the FDS declared at the end of the Elysée that Macron's France was going to send military reinforcements to Manbij to reinforce the American troops in the approach of the Turkish troops, Macron even if he had to deny his allegations confirmed his support to the troops of the FDS. Turkey rejected any French mediation with the Arab-Kurdish Manbij force. It is in this context that France 2 has chosen to disseminate a Special Envoy's survey of Turkish arms sales to jihadists in the Islamic State and al-Qa'ida by concealing Franco-American support for the same jihadists. A surprising coincidence. Still, Erdogan's reaction to Macron was particularly virulent. According to MEE, "President Tayyip Erdogan said that France had adopted a "completely wrong approach" towards Syria, adding that he had exchanged vehement words with his French counterpart, Emmanuel Macron, last week. With clear threats against the French state from the Turkish Deputy Prime Minister, Bekir Bozdag, who said that the French position put Paris on a collision course with Ankara: "Those who engage in cooperation and solidarity with terrorist groups against Turkey.... will become, like terrorists, a target of Turkey," wrote Bozdag, who is also the spokesman for the Turkish government, on Twitter. "We hope France doesn't take such an irrational step." Erdogan even threatened Macron with a barely veiled retaliation: "We hope that France will not come to us for help when terrorists fleeing Syria and Iraq fill their country after being encouraged by their policies," he said. (MEE)
---
1. Update zur türkischen Militäroffensive in Afrin, T70
Nachdem die kurdischen Vertreter der FDS am Ende der Elysée erklärten, Macrons Frankreich werde militärische Verstärkung nach Manbij schicken, um die amerikanischen Truppen im Vorfeld der türkischen Truppen zu verstärken, bestätigte Macron seine Unterstützung für die Truppen der FDS, auch wenn er seine Behauptungen zurückweisen musste. Die Türkei lehnte jede französische Vermittlung mit der arabisch-kurdischen Manbij-Truppe ab. In diesem Zusammenhang hat sich France 2 dafür entschieden, die Umfrage eines Sondergesandten über türkische Waffenverkäufe an Dschihadisten im islamischen Staat und in der Al-Qaida zu verbreiten, indem er die französisch-amerikanische Unterstützung für dieselben Dschihadisten verschweigt. Ein überraschender Zufall. Dennoch war Erdogans Reaktion auf Macron besonders heftig laut MEE. Präsident Tayyip Erdogan sagte, dass Frankreich einen "völlig falschen Ansatz" gegenüber Syrien gewählt habe und fügte hinzu, dass er letzte Woche vehemente Worte mit seinem französischen Amtskollegen Emmanuel Macron ausgetauscht habe. Mit klaren Drohungen des türkischen Vizepremierministers Bekir Bozdag gegen den französischen Staat, der sagte, dass die französische Position Paris auf einen Kollisionskurs mit Ankara gebracht habe: "Diejenigen, die sich in Zusammenarbeit und Solidarität mit terroristischen Gruppen gegen die Türkei engagieren..... wird wie die Terroristen ein Ziel der Türkei werden", schrieb Bozdag, der auch Sprecher der türkischen Regierung ist, auf Twitter. "Wir hoffen, dass Frankreich nicht so einen irrationalen Schritt macht." Erdogan drohte Macron sogar mit einer kaum verschleierten Vergeltung: "Wir hoffen, dass Frankreich nicht zu uns kommt, wenn Terroristen, die aus Syrien und dem Irak fliehen, ihr Land füllen, nachdem sie durch ihre Politik ermutigt wurden", sagte er. (MEE)