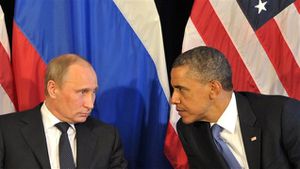 Exclusive: Putin Halts All Talks With White House

By Josh Rogin 
Daily Beast
As new U.S. sanctions against Russia loom, the Kremlin has shut down—at least for now—intensive high level communications between top U.S. and Russian officials.

Since the "invasion of Crimea", President Vladimir Putin and President Barack Obama have had regular phone calls in an often half-hearted attempt to deescalate the ongoing crisis inside Ukraine. But as the U.S. and EU prepare to unveil new sanctions against Russia, Putin has decided the interactions should stop. The Kremlin has ended high-level contact with the Obama administration, according to diplomatic officials and sources close to the Russian leadership. The move signals an end to the diplomacy, for now.

"Putin will not talk to Obama under pressure," said Igor Yurgens, Chairman of the Institute for Contemporary Development, a prominent Moscow think tank, and a close associate of Russian Prime Minister Dmitry Medvedev. "It does not mean forever."

Obama and Putin last spoke over the phone on April 14, a call that the White House said was initiated at Moscow's request. Obama urged Putin in the call to end Kremlin support for armed, pro-Russian activists creating unrest in eastern Ukraine. Obama also warned that the U.S. would impose more "costs" on Russia if Putin continued his current course. According to the Kremlin's readout of the call, Putin denied Russian interference in eastern Ukraine and said "that such speculations are based on inaccurate information."

Obama and Putin have spoken to each other about Ukraine regularly over the past weeks, including calls on March 28, March 16, and March 6. But that these calls are now on hold for the indefinite future, due to their lack of progress and frustration on both sides.

On Friday, Kerry warned that new round of American financial assaults on Russia were on the way. "We are putting in more sanctions, they will probably come Monday at the latest," he said in a private meeting in Washington, according to an attendee. Russian businesses and individuals close to Putin would be on the sanctions list, he added.

Diplomatic sources close to the process confirmed that Putin is not interested in speaking with Obama again in the current environment. The two leaders might talk again in the future but neither side is reaching out for direct interaction, as they had been doing since the Ukraine crisis began. The failure of the agreement struck last week in Geneva between the contact group of the U.S., EU, Russia, and Ukraine has made further direct Washington-Moscow interactions moot.
Other top U.S. officials are also now out of direct contact with their Russian interlocutors. Defense Secretary Chuck Hagel is also getting the cold shoulder from his Russian counterpart Sergey Shoygu. Pentagon officials have reached out to Russia on Mr. Hagel's behalf within the past 24 hours but have not gotten any response, according to Pentagon Spokesman Army Col. Steve Warren.
That leaves the channel between Secretary of State John Kerry and Russian Foreign Minister Sergei Lavrov as the only semi-functioning high-level diplomatic channel between Washington and Moscow. But even that often-frosty relationship has further chilled as the two sides hurled insults and accusations this week.
After speaking over the phone Monday and then again Tuesday about the now defunct Geneva agreement on Ukraine, Kerry and Lavrov are now conducting diplomacy through the press—and leveling harsh and undiplomatic charges against one another.
Kerry appeared at the State Department press room Thursday afternoon to declare publicly that Russia was not keeping its word.
"For seven days, Russia has refused to take a single concrete step in the right direction," Kerry scolded. "Not a single Russian official, not one, has publicly gone on television in Ukraine and called on the separatists to support the Geneva agreement, to support the stand-down, to give up their weapons, and get out of the Ukrainian buildings. They have not called on them to engage in that activity. "
Kerry also lashed out at Russia Today, the Kremlin-sponsored television network, which Kerry said spends all its time "to propagandize and to distort what is happening or not happening in Ukraine."
"Instead, in plain sight, Russia continues to fund, coordinate, and fuel a heavily armed separatist movement in Donetsk," Kerry accused.
Lavrov publicly responded, "The U.S. is trying to pervert everything that is going on in Ukraine."
On Friday, Kerry summed up his recent interactions with his Russian counterpart, "I've had 6 conversations with Lavrov in the last few weeks. The last one was Kafka-esque... It was bizarre."
See also -
Pentagon: Hagel's Russian counterpart won't return his calls: Defense Secretary Chuck Hagel cannot get his Russian counterpart to take his calls, the Pentagon said Friday -- amid a new report that the Kremlin has suspended high-level talks with U.S. officials.